Thick & Fluffy Pancakes|Gluten Free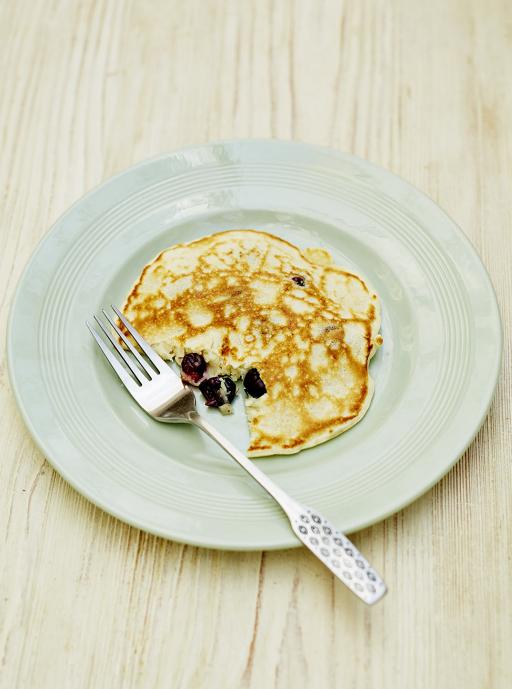 Thanks so much to Teresa over at Gluten Free Living for the base I used for this recipe.  I found that the rice flour is grainy at first so I plan to make this ahead and let the dry ingredients (minus the baking powder) sit with the wet for a bit (30 min or so) before whipping the whites.  When we're ready to cook we will stir the baking powder into the batter then fold in the stiff whites.  Serve with homemade Rapadyrup & blueberries and it's got all of the Big 3 included.
---
Ingredients
1 cup Brown Rice Flour
1 tsp rounded Baking Powder
1/4 tsp Salt
1-2 Tbsp sweetener (I used rapadura)
1 Tbsp Ground Flax
1 Tbsp Lecithin Granules (optional but really good for you if you have it)
1/2 tsp Cinnamon
1/4 tsp Nutmeg
Pinch of Ginger
3 large Eggs
1 Tbsp Melted Butter/Coconut Oil or Liquid Lecithin if you have on hand
1 tsp Vanilla
3/4+ cup Milk (I've used hemp, coconut, almond, & cows milk, they all work)
Ghee, butter or coconut oil to fry in.
Method
First, separate the eggs, putting the whites in 1 bowl and the egg yolks into another. Add the dry ingredients (except salt) and milk to the egg yolks and mix to a smooth batter. Whisk the whites with the salt until they form stiff peaks. Fold into the batter. Heat a non-stick pan on a medium heat. Add some fat onto the pan. Pour some of your batter into the pan and fry for a couple of minutes until it starts to look golden and firm. Loosen with a spatula and flip the pancake over. Continue frying until both sides are golden.
You can make these pancakes large or small, to your liking. You can serve them simply lather in yellow butter, drowse in organic maple syrup, make up some low glycemic rapadyrup, and even some butter or creme fraiche.