Cheesy Vegan Quinoa Bake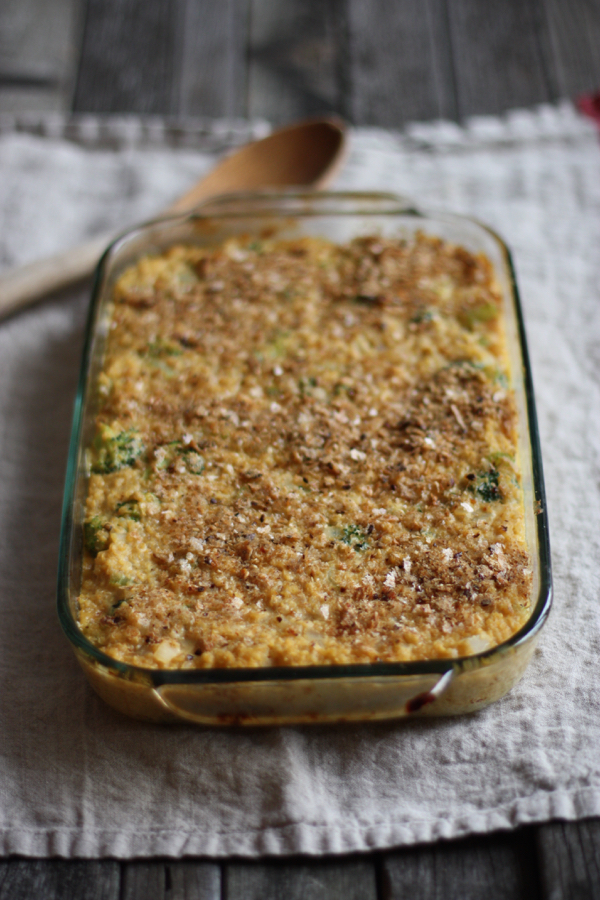 Here's what's on the menu for tonight!  Yum!
Thanks so much to Gena Hamshaw over at ChoosingRaw.com for this delightful recipe we have to look forward to.
---
Cheesy Vegan Quinoa Bake
Yield: 6 Servings
Serving Size: Approximately 1 cup
Ingredients
For the Bake:
4 cups broccoli florets, chopped
1 tablespoon olive oil
1 white or yellow onion, diced
2 stalks celery, diced
4 cups quinoa, cooked
1/4 cup breadcrumbs (optional; you can make your own by pulsing two slices of toasted whole grain bread in a food processor, or you can use a gluten free brand)
For the Cheesy Sauce:
1/2 cup raw cashews, soaked for at least two hours, rinsed, and drained
1 cup chickpeas, cooked
1/2 cup nutritional yeast
1 clove garlic, minced
1 teaspoon smoked paprika
1/2 teaspoon mustard powder
1 1/4 cups water
1/2 teaspoon salt
2 tablespoons white miso
(optional: 1/4 cup ground flax seed
Instructions
Fill a medium sized pot with water and fit with a steamer attachment. Bring the water to a boil and steam the broccoli florets until crisp-tender (about 3-4 minutes). Remove them from heat.
Blend all of the sauce ingredients together in a high speed blender or a food processor until they're totally smooth.
Preheat your oven to 350F. Heat the olive oil in a large skillet over medium heat. Add the onions and celery, and sauté the vegetables until the onion is clear and soft (about 7 minutes). Add the quinoa and the broccoli to the skillet. Add the sauce and stir everything to heat it through.
Transfer all ingredients to an oiled 7×11 or 8×12 baking dish. Top with breadcrumbs, if using. Bake for 30-35 minutes, or until the casserole is bubbling gently and the breadcrumbs are golden. Allow to cool for 15-20 minutes before cutting into squares and serving.