Gluten Free Cold Cereal
One of the big things we're missing as we clean up our diets of processed foods is cold cereal.  I'm looking forward to serving up bowls of this to happy faces for what used to be our "Cereal Sunday" morning meal!  Thanks so much to Mellissa Sevigny over at iBrEATheI'mHungry.com for creating this delightful recipe.
Makes six 1/2 cup servings
1/2 cup milled flax seed
1/2 cup hulled hemp seeds (if you can't get hemp seeds try ground almonds or walnuts.  Chia works too, but they aren't proven to maintain their goodness when baked)
2 Tbl ground cinnamon (make sure it's not old)
1/2 cup apple juice
1 Tbl coconut oil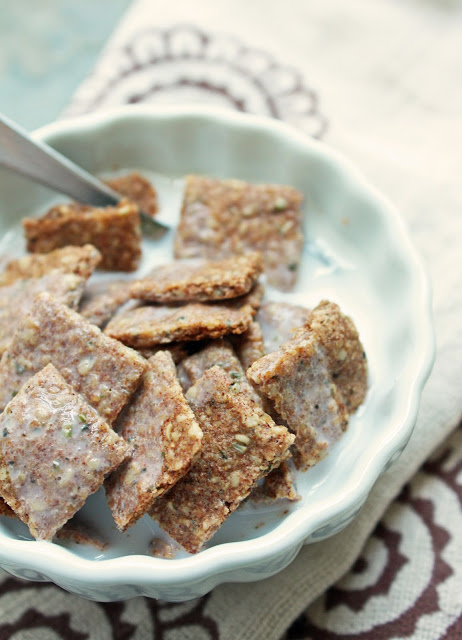 Combine the dry ingredients in a Magic Bullet, blender or food processor.  Add the apple juice and coconut oil and process until fully combined and mostly smooth.  Spread the batter out on a parchment lined cookie sheet until nice and thin – about 1/16 of an inch thick.  Bake in a preheated 300 degree (F) oven for 15 minutes.  Lowerthe heat to 250 degrees (F) and bake for another 10 minutes.
Remove from the oven and using a pizza cutter or knife, cut into squares about the size of the keys on your computer keyboard.
Turn off the oven and put the cereal back inside for about an hour, or until it's crisp and breaks easily.  If it's still soft, keep in the oven until completely dried out and crisp.  Serve with unsweetened almond or coconut milk!  SO good!  Can't wait to hear what you guys think of it!
Approximate nutrition info per serving as is: 138 calories, 9g fat, 3.4g net carbs, 5g protein
Approx nutrition info per serving if using a no calorie sugar substitute in place of the apple juice:
129 calories, 9g fat, 1.25g net carbs, 5g protein